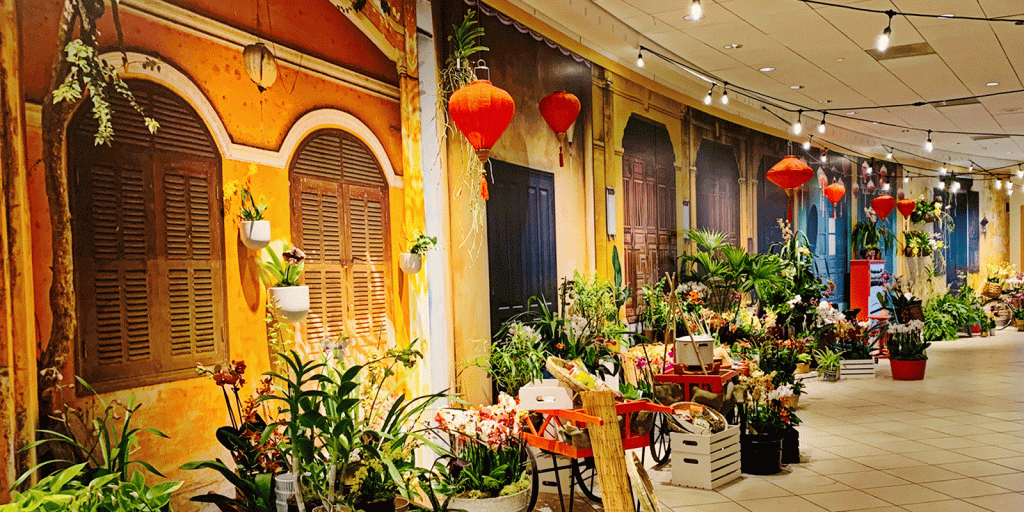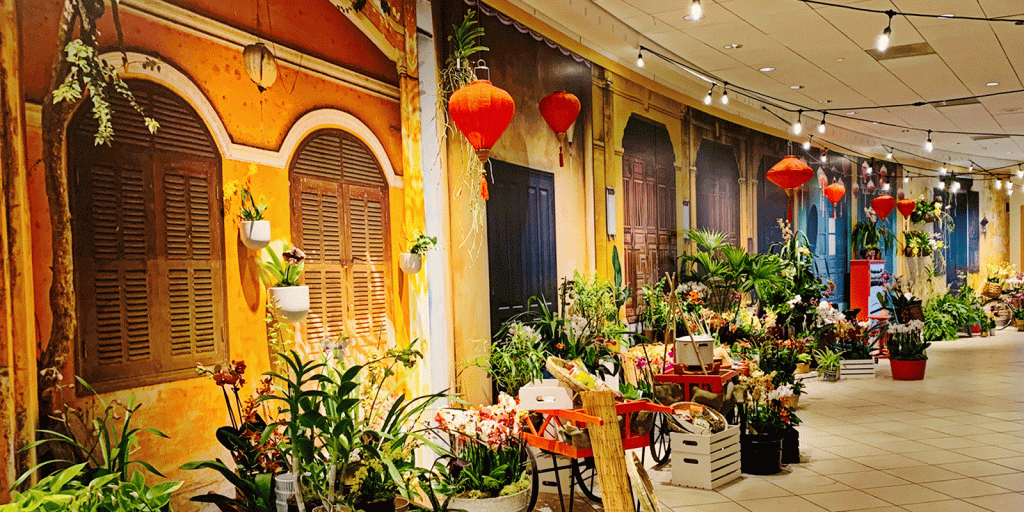 The Cleveland Botanical Garden's annual Orchid Mania show is in full bloom until March 1. Just Add Ice® is a proud sponsor of the show and we provided over 2,300 of our Ohio-grown Phalaenopsis orchids to the Botanical Garden to support this year's show. In total, Cleveland Botanical Garden will display over 4,000 orchids during the course of Orchid Mania.
What Is Orchid Mania?
Orchid Mania is an annual celebration of orchids hosted by the Cleveland Botanical Garden, each year focusing on a different theme interpreted by the Garden's team to bring the idea to life with thousands of blooming orchids.
Orchid Mania's 2020 theme is Vibrant Vietnam, celebrating the country's native orchids as well as its cultural heritage in the show's 14th year.
Cleveland Botanical Garden staff collaborated with GiaHoa Ryan, the director of Friends of the Vietnamese Cultural Garden, to ensure that the utmost care and respect was taken when designing the exhibits around Vietnamese culture. The Vietnamese Cultural Garden in Cleveland will also open in 2020 after years of planning.
Each exhibit at Orchid Mania was designed to showcase a different aspect of Vietnamese culture, from tiered agriculture to a decorated pergola to musical instruments to a busy marketplace street brimming with light and life. It is a full immersion of cultural beauty from start to finish.
When planning your visit to Orchid Mania, first be aware of the Botanical Garden's operating hours. The Cleveland Botanical Garden is closed Monday and is open Tuesday, Thursday, Friday, and Saturday from 10am to 5pm, Wednesday from 10am to 9pm, and Sunday from noon to 5pm.
You can make your visit a family affair (kids have discounted admission and children under age 2 are free!) or make it a date. The show will make a great Valentine's Day weekend excursion! Adult admission is $15 each with discounts for groups of ten or more.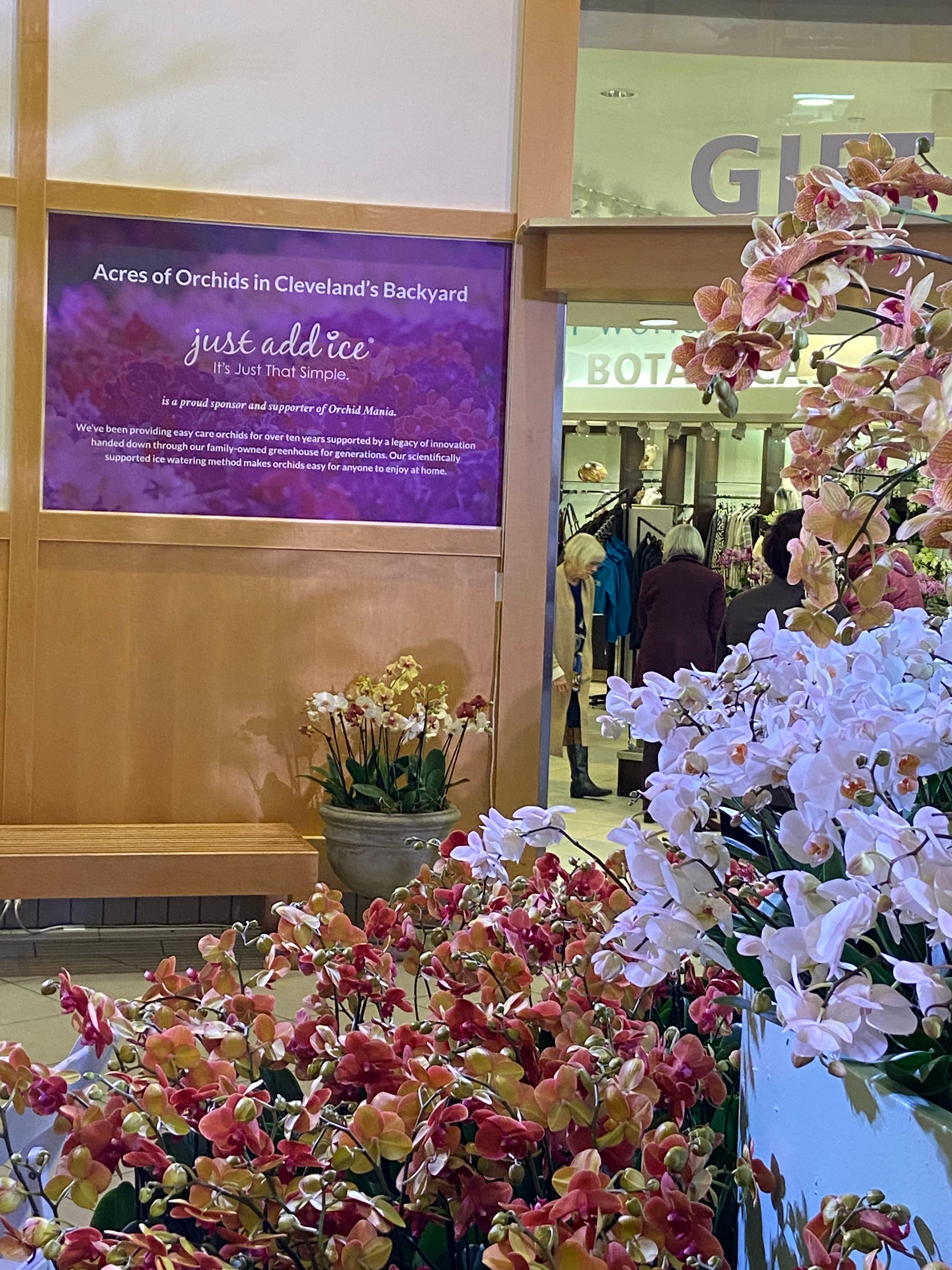 Orchid Mania Programs
Orchid Mania isn't just a static exhibit in Cleveland's museum district; the Cleveland Botanical Garden has planned a calendar of events during the show's run with something for everyone.
Ask the Orchid Doctor, a one-hour Q&A with orchid experts each Saturday during the show, allows visitors to ask questions about their orchids they keep at home. The Botanical Garden invites them to bring in their orchids for a diagnosis. Just Add Ice® will be sending our own Director of Growing to host Ask the Orchid Doctor on February 22 and 29.
The Greater Cleveland Orchid Society will also be hosting a show and sale during Orchid Mania, on Saturday and Sunday, February 15-16. Special workshops and tours will be scheduled for both days as well.
Orchids After Dark is Orchid Mania's evening program, hosted on Wednesdays at the Botanical Garden. Wednesday is the only evening the Garden stays open until 9pm, and during Orchid Mania there will be an offering of beverages for patrons 21 and older to enjoy while they visit the Orchid Mania show.
Art exhibits are also on display throughout the run of Orchid Mania, including silk paintings by Gunter Schwegler, nature-inspired acrylics by Dawn Hopkins, and handmade paper flowers by Gigi Galiano.
Finally, Orchid Mania also hosts an annual fashion exhibit. Fashion Meets the Botanicals is an exhibit created by Kent State University Fashion School students who develop clothing pieces based on orchids and botanical themes.
Planning Your Visit to Cleveland
If Cleveland isn't in your backyard and you're driving in, consider staying in a local hotel and visiting a couple other area museums. The Cleveland Museum of Art is across the street from the Botanical Garden and has free admission. There's also the Cleveland Museum of Natural History, the final resting place of Balto, the famous dog behind the Iditarod dog sled race. And if you're a music fan, the Rock & Roll Hall of Fame isn't far!
You'll also be amazed at the restaurant scene in Cleveland, including Michael Symon's Lola Bistro in Downtown Cleveland, The Flying Fig in Ohio City, and Marotta's classic Italian restaurant in Cleveland Heights. If plant-based fare is your style, Cleveland Vegan and The Root Cafe are both in Lakewood and offer a variety of vegan and vegetarian meals, drinks, and desserts.
Visit the Cleveland Botanical Garden's website to find out more about Orchid Mania and plan your visit. Keep an eye on our Facebook page for updates on Facebook Live streams and Q&A opportunities as well!